AFFILIATIONS
PIANO TECHNICIANS GUILD . NORTH BENNET STREET SCHOOL . DARRELL'S MUSIC HALL

Piano Technicians Guild
The Piano Technicians Guild, Inc., is the largest organization of its kind in the world and has established the only set of standards in North America for the tuning, regulation, maintenance and repair skills needed by a qualified technician.
Mission
The mission of the Piano Technicians Guild is to promote the highest possible standards of piano service by providing members with opportunities for professional development by recognizing technical competence through examinations and by advancing the interest of its members.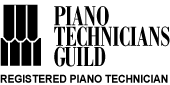 Registered Piano Technician (RPT)
The member of the Piano Technicians Guild who carries the designation of an RPT has made a commitment to quality. By passing a series of three exams on maintenance, repair and tuning pianos, Paul has demonstrated technical proficiency earning the title of RPT.
Only RPT's are authorized to use the trademarked logo.
Registered Piano Technicians are professionals who have committed themselves to the continual pursuit of excellence, both in technical service and ethical conduct.
Code of Conduct:
I will act honorably and in a professional manner.
I will render the best possible service under the circumstances, always keeping the best interests of my client in mind.
I will engage only in fair trade practices in the knowledge that I am reflecting the honesty and integrity for which the Piano Technicians Guild stands.
I will use the name and trademarks of the Piano Technicians Guild properly and will encourage others to do the same.
I will strive to upgrade my professional skills and I will encourage and help others to do the same.
I will promote, in any way that I can, good will toward my profession and toward the music industry.
Paul Panek is President of Boston's Piano Technicians Guild.
The North Bennet Street School (NBSS) is located in Boston's historical North End has been training people for employment since 1885. As one of the oldest trade schools in the United States, NBSS pioneered the concept of intensive instruction in a classroom/shop setting for the sole purpose of learning a trade.
Paul Panek attended the North Bennet Street School for two years and received the following designations:
Certificate degree in Basic Piano Technology
The Basic Piano Technology program includes tuning, repair and regulation.
Diploma in Advanced Piano Technology
The Advanced Piano Technology program includes rebuilding and restoration of grand pianos. He learned from some the finest piano technology faculty in the field.
These comprehensive programs have enabled many graduates to immediately begin their own practices or join prestigious companies such as Steinway & Sons and Mason & Hamlin or higher education and/or music institutions such as Tanglewood, Aspen and Interlochen.
Darrell's Music Hall has piano showrooms in Nashua, Concord and Portsmouth, NH. They are an authorized dealer for Yamaha, Petrof, Knabe and Samick pianos. Three generations of the Darrell family have maintained their reputation for providing the best service to their clients by collaborating with qualified, independent Registered Piano Technicians such as Paul Panek.
Paul Panek d.b.a. Pianocraftsman has partnered with Darrell's Music Hall since 2002 and provides in-house service as well as high-quality warranty service to pianos purchased at Darrell's. Darrell's Music Hall and Pianocraftsman share a similar philosophy regarding high quality and service.
Provide the client with an excellent product at a fair price.
Never sacrifice quality for price or the client will be severely disappointed.
Earn the client's trust and confidence and maintain it.
After thirty years, Darrell's Music Hall has earned its reputation for providing what the customer asks for.